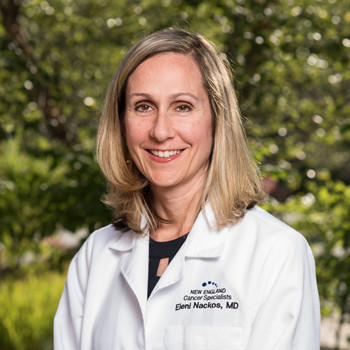 Eleni Nackos
MD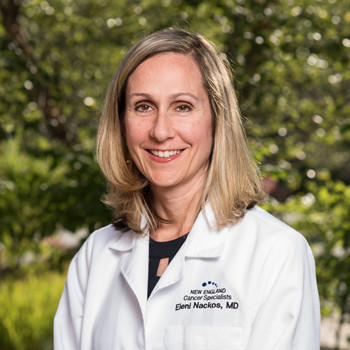 Education
Drexel University College of Medicine


Residency
Tufts Medical Center
Board-Certified
Internal Medicine, Oncology


Fellowship
New York Presbyterian, Weill Cornell Medicine
Dr. Nackos was born and raised in Los Angeles. She completed her pre-medical requirements at the University of Pennsylvania and earned her medical degree at Drexel University in Philadelphia. After completing internal medicine residency at Tufts Medical Center, she received specialized training in hematology and oncology as a fellow at New York-Presbyterian/Weill Cornell Medicine in New York City. She joined New England Cancer Specialists in 2016.
Dr. Nackos is board certified in medical oncology and specializes in breast cancer. She is a member of the American Society of Clinical Oncology and the American Society of Hematology.
Dr. Nackos and her boyfriend live in Portland with a very energetic dog and a talkative cat. In fact, many of her patients met her exuberant lab, Piper, when she was a puppy. She enjoys biking, travel, cooking, reading, basketball, and tooling around on her Vespa.
Call 1-207-303-3300

Comments
All patient satisfaction ratings and comments are submitted by actual patients and verified by a leading independent patient satisfaction company, NRC Health. Patient identities are withheld to ensure confidentiality and privacy. Only those providers whose surveys are administered through LCMC Health are displayed. Learn more about our survey.