"If you thought, 'men don't get breast cancer,'
it's time to think again."
Ron Richards of South Hiram, Male Breast Cancer Survivor

"I ignored a small lump on my right breast for a month—even when it became painful to touch—because, of course, men don't get breast cancer!
"Thankfully, my wife urged me to check it out. They did a mammogram and ultrasound, which to my surprise, detected breast cancer. Fortunately, it was only at Stage II, with clean lymph nodes.
"Dr. Battelli at New England Cancer Specialists said it was not only treatable, but curable! She is deeply involved in breast cancer research—on both men and women—which I was grateful to hear, because the post-op protocols are much more limited for men.
"After having a lump removed surgically, I got chemotherapy—no fun, but the team at NECS made it more bearable. I also participate in a new treatment approach to see if a combination of therapies can increase the chance of curing the cancer. And it's great that the trial was open to men.
"I urge all men to keep an eye on your breast tissue, and talk to your doctor if you see or feel any change. Because even though it's rare among us men, it really can happen to you! And if you ever receive a diagnosis, I would recommend immediately calling the breast cancer specialists at NECS."
Learn more about prevention and detection of breast cancer.
Share Your Story
At New England Cancer Specialists, we know that each of our patients has a unique cancer journey, with unique challenges and stories. We believe that sharing these stories can inspire and support others, no matter what their diagnosis or where they are in the process.
If you would like to share the story of your cancer journey with us and other patients, please click the link below to learn more.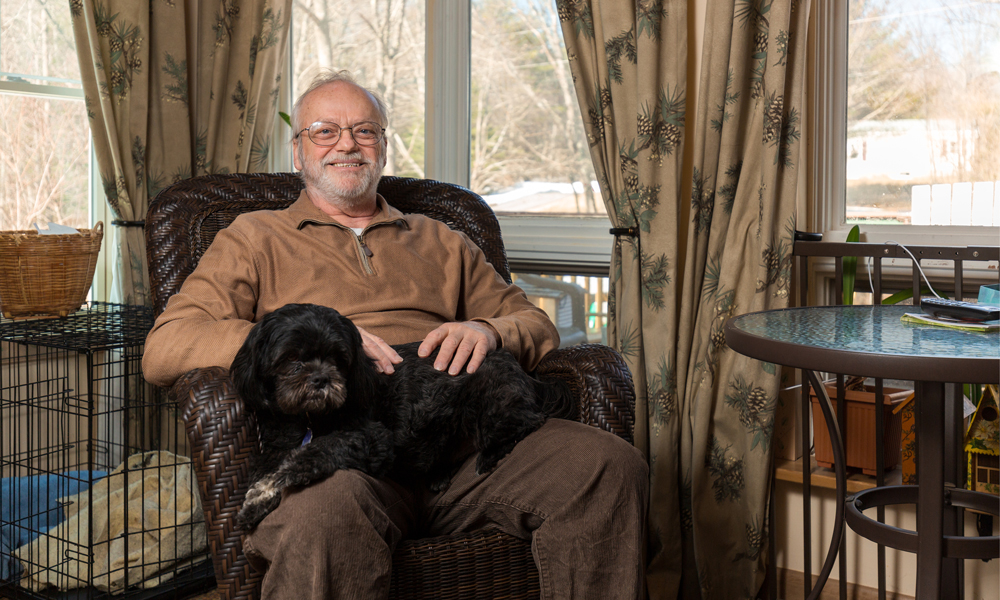 Ron Richards with his dog, Mica