"My team at New England Cancer Specialists is

knowledgeable, effective and supportive.

I couldn't ask for more."

Michele Miller, Breast & Pancreatic Cancer Patient

Michele first came to NECS with a diagnosis of breast cancer. Genetic testing revealed that she has a rare genetic condition, the BRCA2 gene mutation, which raises the probability of recurrence, so she chose to have a bilateral mastectomy.
BRCA2 also raises the risk of getting other cancers, including most problematically, pancreatic. So when Michele felt pain her stomach, she alerted Dr. Nackos and her team, who moved quickly to have it checked out. Michele was diagnosed with pancreatic cancer, but at an early stage, with no spreading to other parts of the body.
"It was devastating to read about the survival rate of pancreatic cancer—just 11% of patients live five years—but I had confidence in my care team, led by Dr. Dugan at NECS. They were superb at coordinating care with my surgeon, who performed a successful Whipple procedure, and then administering chemotherapy. A CT scan in December revealed no trace of cancer, which was a wonderful Christmas present, and now I'm planning to return to work (part-time to start).
"Aside from their very high level of expertise, everyone at NECS treated me with the utmost regard for my comfort—physical and emotional. I always felt supported: from the check-in staff to the nurses in the treatment room, to the Lab and even billing, they were all pulling for me. They paid close attention to the side effects of my chemo, and used all their tools to mitigate discomfort.
"Pancreatic cancer is insidious, so you never know what lies ahead, but I feel that my NECS team and I can deal with whatever comes up. They really know what they are doing. Best of all, I never had to advocate for myself: they always did that for me!"
Read more of Michele's story on Today.com.
Share Your Story
At New England Cancer Specialists, we know that each of our patients has a unique cancer journey, with unique challenges and stories. We believe that sharing these stories can inspire and support others, no matter what their diagnosis or where they are in the process.
If you would like to share the story of your cancer journey with us and other patients, please click the link below to learn more.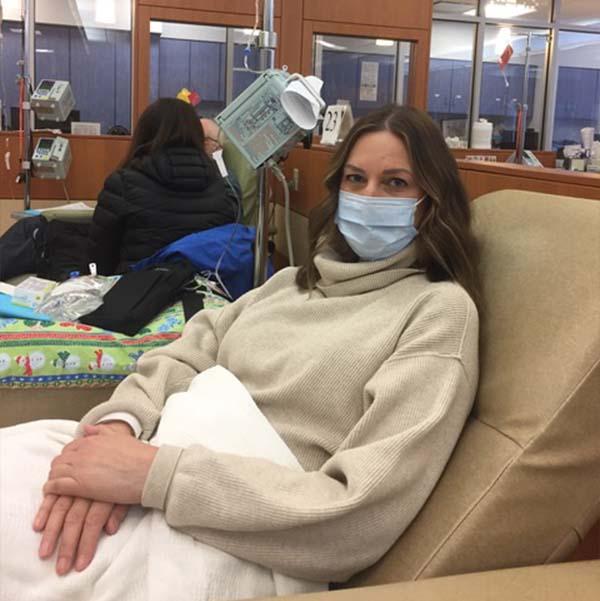 Michele's care team helped make sure her treatment didn't keep her from being there for her daughter, Monica's, wedding.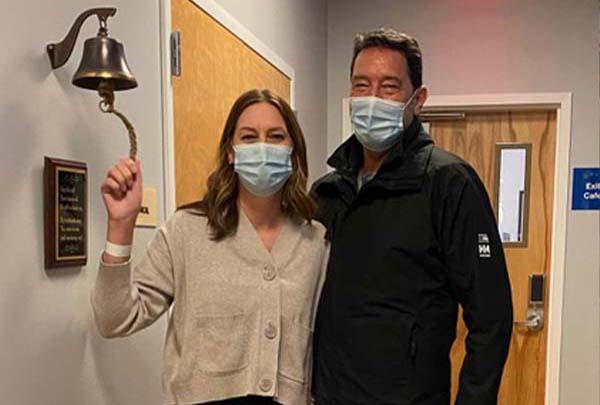 Michele's husband, Rich, helps her ring the bell signaling the completion of her treatment for pancreatic cancer.