NECS Kennebunk Location Hosts Working Artist Through Maine Arts Commission Grant
February 14, 2018
NECS is hosting professional painter, Erin McGee Ferrell (ArtistAMERICAN.com) at its Kennebunk location each Wednesday afternoon for eight weeks through March 21, 2018. The project, which is funded by a grant from the Maine Arts Commission and Artist and Craftsmen Supply, is designed to assess the impact on medical facility patients and staff of an artist working in their midst.
After her first session, on January 24th, Ferrell reported, "Among the nine people I surveyed today, the majority said that watching me paint was a positive distraction from receiving the chemo treatments."
"We are excited to bring this project to NECS for the benefit of our patients, staff and community," said Steve D'Amato, Executive Director of NECS. "Our patients and their loved ones are going through a lot when they walk through our doors, so we try to do whatever we can to make their days brighter and a little less stressful. Ms. Ferrell's work appears to do just that, based on her first session."
"I have often placed big paintings on medical walls to distract patients from pain," Ferrell notes, "but this project is more about the response to my working in the space than the paintings themselves. I am surveying anyone who happens to be in the infusion area of NECS Kennebunk and is willing to participate—patients and their supporters, employees, and others—and am comparing the results with my long experience painting in public on the streets." Ferrell has received guidance on the project from her research partner, social psychologist Betsy Parks-Stamm, PhD, and two board members of The National Organization for Arts in Health (theNoah.net).
Ferrell's residency is part of a pilot project designed to look at active verses passive visual art in the Health Care Environment. Traditionally, people think of art playing a passive role on the walls of hospitals and in therapy programs. More recently, active visual artists have been shown to alter environments in a way that improves the patient experience, decreases anxiety and fosters community-building. Ferrell's goal is to further research and document more opportunities for collaboration between the arts and healthcare.
###
Erin McGee Ferrell has been a professional artist for 25 years. A two-time cancer survivor based in Falmouth, Maine, she often works in public places where onlookers collaborate in her creative process. Among her many works are large 2-D mixed media installations for corporate and healthcare facilities, and urban architectural oil paintings from the streets of Portland, ME and Philadelphia, PA. Represented in Maine by the Venn and Maker Gallery of Portland, she is nationally recognized and collected by numerous institutions and individuals. For more information, visit http://www.artistamerican.com/. The Maine Arts Commission is an independent state agency supported by the National Endowment for the Arts. Artist and Craftsmen Supply is a Portland retailer of art materials and supplies.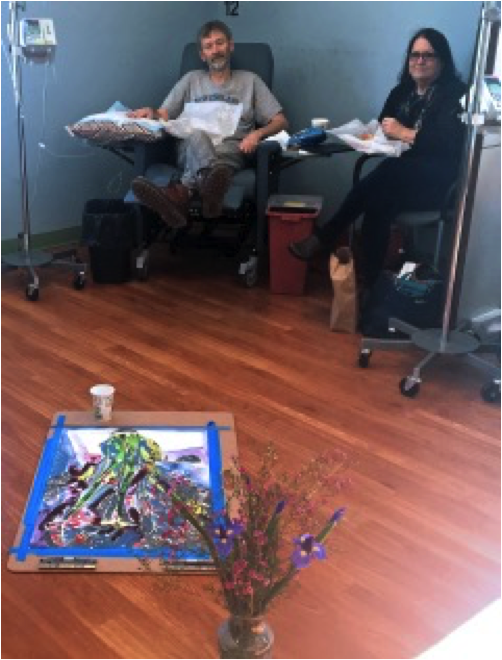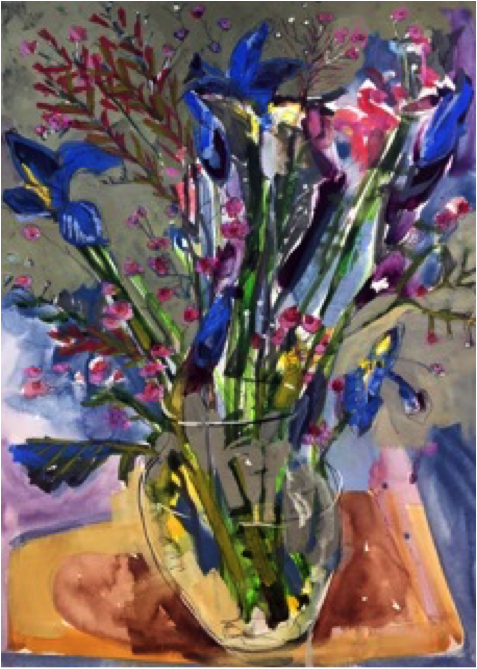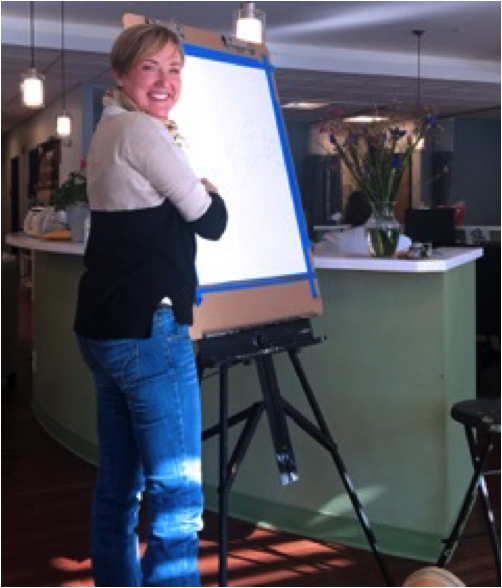 Picture 1: New England Cancer Specialists patient, Ulrich Schachtschneider, and his wife, Gail, admire one of Ferrell's paintings during the first session of her eight-week project to assess the effects on people in the facility of her actively painting in their midst.
Picture 2: While the paintings created during the project are not Ferrell's main focus, reactions to them have been extremely positive, so she is hanging them at the facility for the eight-week duration.
Picture 3: Erin McGee Ferrell about to begin her first afternoon painting in the chemotherapy infusion area of New England Cancer Specialists' Kennebunk office.