NECS welcomes new social worker
December 4, 2017 · Cathy Lounsbury will assist Kennebunk patients
Cathy Lounsbury, Ed.D., LCPC is thrilled to be joining the team at New England Cancer Specialists.
Cathy is a seasoned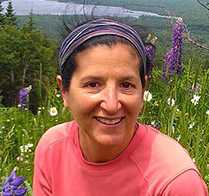 counselor, educator, and leader in the study and practice of trauma, wellness and resilience. Cathy has been a clinical mental health counselor for over 25 years, working with both children and adults, helping those who have experienced challenge in their lives find strength, joy, and peace. Cathy currently serves as an Associate Professor in the Clinical Mental Health Counseling department at Antioch University New England. In this role, she founded Antioch's Institute on Wellness, providing consultation and training nationally on strategies to support wellness for those in the helping profession. Cathy believes strongly in building natural resiliency supports for those who have experienced traumatic events. To this end, she has served on local, national, and international community trauma response teams following and was the founder and director of a county-wide community trauma team. Cathy resides in Kennebunk, and enjoys the wonderful outdoor activities available in our beautiful state.
Cathy will begin seeing patients in late December.