Collins' bipartisan bill would fairly price Medicare Part D medications
May 29, 2018 · By Ripon Advance News Service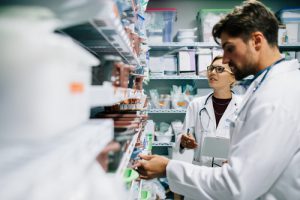 The cost of prescription medications for Medicare Part D patients would be reduced under a bipartisan proposal introduced on May 24 by U.S. Rep. Doug Collins (R-GA).
"Bloated drug costs are one of the biggest barriers to affordable health care," Rep. Collins said.
The Phair Pricing Act of 2018, H.R. 5958, which includes U.S. Rep. Vicente Gonzalez (D-TX) among the original cosponsors, would close the gap between reality and the claims that pharmacy benefit managers (PBMs) and prescription drug plan (PDP) sponsors negotiate with pharmacies on behalf of patients, according to a statement from Rep. Collins' staff.
Specifically, H.R. 5958 would amend title XVIII of the Social Security Act to require pharmacy-negotiated price concessions and pharmacy incentive payments and adjustments to be included in negotiated prices at the point-of-sale under the Medicare Part D program, and for other purposes, according to the congressional record.
The Centers for Medicare and Medicaid Services reports that PBMs and PDP sponsors often use pharmacy rebates and price concessions "to pad their profits" rather than for their stated purpose, which is to reduce medication prices, according to the congressman's staff.
"Pharmacy benefit managers maneuver in the shadows to block savings from reaching the patients who depend on them to afford their medications," Rep. Collins said. "I introduced the Phair Pricing Act to ensure that when industry middlemen claim to negotiate lower prices on behalf of patients, patients receive those savings at the point of sale — otherwise, they might not receive them at all."
H.R. 5958 would direct all price concessions, incentive payments and price adjustments between a pharmacy and a PDP sponsor or PBM to be included at the point of sale, according to a summary provided by the lawmaker's office.
"Our prescription drug system is in dire need of reform," added Rep. Gonzalez, who noted the bill would "ultimately put us on the path to making price concessions, rebates and any other reduction in cost transparent, above board and in tune with the end goal: to reduce the cost for patients."
Additionally, H.R. 5958 would direct the U.S. Secretary of Health and Human Services to establish a working group to determine quality measures that would apply to pharmacy operations. Currently, PDP sponsors and PBMs may impose such quality measures on pharmacies, according to Rep. Collins' staff.
Sheila Arquette, executive director of the National Association of Specialty Pharmacy, urged Congress to act this year on H.R. 5958 to help ensure America's senior citizens who suffer severe and complex medical conditions requiring specialty medications receive those medications at a fair price.
"For far too long," Arquette said, "these seniors have been shouldering the brunt of fees that threaten continued access to the critical patient care support services these specialty medications require and patients deserve. Today's bill led by Rep. Doug Collins and Rep. Vicente Gonzalez will change course, protecting access to specialty medications, improving quality and reducing costs for seniors across the country."
Ted Okon, executive director of the Community Oncology Alliance, commended H.R. 5958 because it "ensures that the savings PBMs negotiate are passed along to patients at the pharmacy counter and not pocketed by these middlemen corporations."
"Patients who face high deductibles and prescription drug costs should be receiving the benefit of all the discounts and rebates that PBMs negotiate, supposedly on their behalf," agreed Steven L. D'Amato, executive director of New England Cancer Specialists. "This legislation is an important step in the right direction to finally reforming a system that too often benefits PBM middlemen and not the patients."
The National Community Pharmacists Association (NCPA) also supports H.R. 5958, according to NCPA Chief Executive Officer B. Douglas Hoey, who said the measure also "is a welcomed means of providing relief to community pharmacies struggling to run their small businesses."
H.R. 5958 has been referred to both the House Energy and Commerce Committee and the House Ways and Means Committee for consideration.
Read the original article here.