Sharing our stories, sharing our hope
At New England Cancer Specialists, we know that each of our patients has a unique cancer journey, with unique challenges and stories. We believe that sharing these stories can inspire and support others, no matter what their diagnosis or where they are in the process.
If you would like to share the story of your cancer journey with us and other patients, please click here to learn more.
CHRIS ST. JOHN
"My doctor saved my life. Our Financial Advocate saved our family."

"Chris was diagnosed with a somewhat rare form of lymphoma, so we chose New England Cancer Specialists for the very best care," his wife, Janice, explains.

Chris with Dr. John Winters
RON RICHARDS
"If you thought, 'men don't get breast cancer,' it's time to think again."

"I ignored a small lump on my right breast for a month—even when it became painful to touch—because, of course, men don't get breast cancer!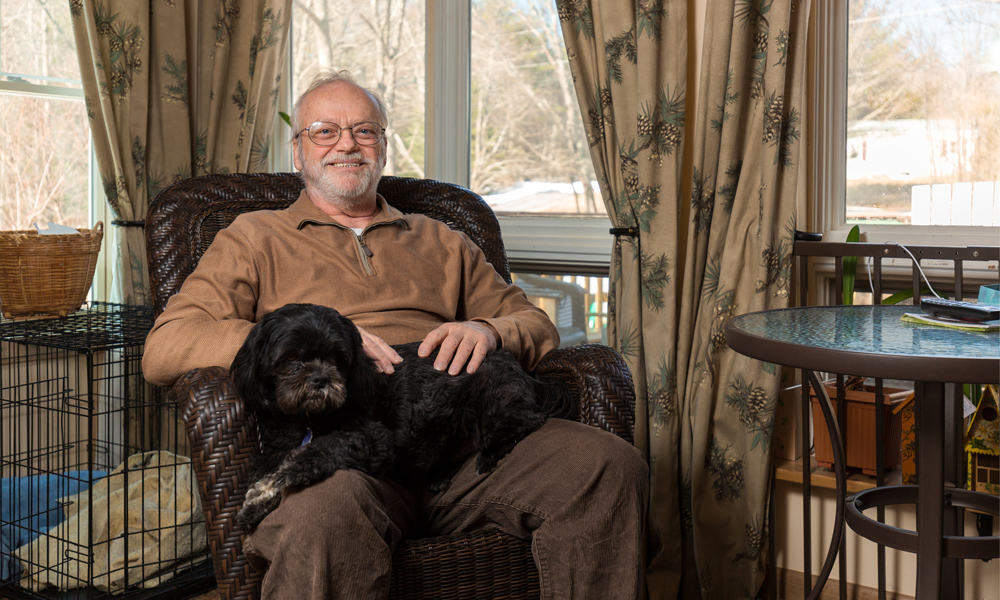 Ron, breast cancer patient.
KIT PFEIFFER
"Thanks to immunotherapy treatment
at New England Cancer Specialists,
I have cancer but I'm not even sick!"

"In 2017, my routine 10-year colonoscopy found a nasty surprise: a large tumor right next to my appendix. A follow-up CT scan showed it to be colorectal cancer, and because it had metastasized, chemo could not eradicate it."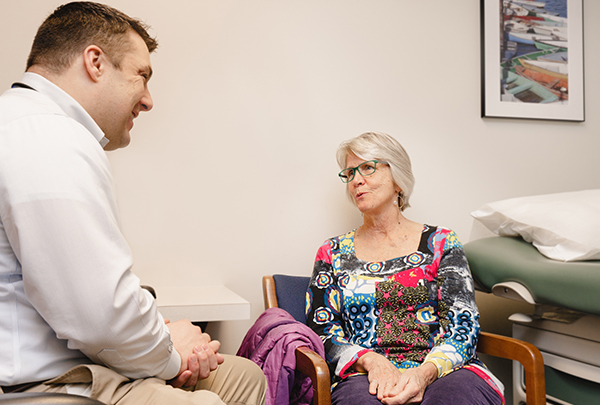 Kit, colon cancer patient.
SARAH EMERSON
"My team at New England Cancer Specialists feels almost like family."

"When I was diagnosed with breast cancer at age 33, I was shocked. But I could tell from my first visit to NECS, they've done this before. They started me on chemotherapy less than two weeks after my diagnosis, and have provided tremendous support through the whole process, including surgeries."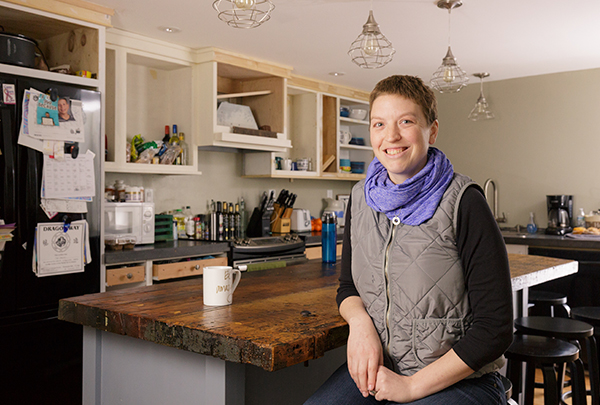 Sarah, breast cancer patient.
CHERYL CLARK
"I was scared at first.
But once my NECS team went to work,
I knew I wasn't alone."
"Dr. Ilyas and his team used every tool to make sure I'm cancer-free. It wasn't easy, but now I'm back working with Arnie in our lawn business."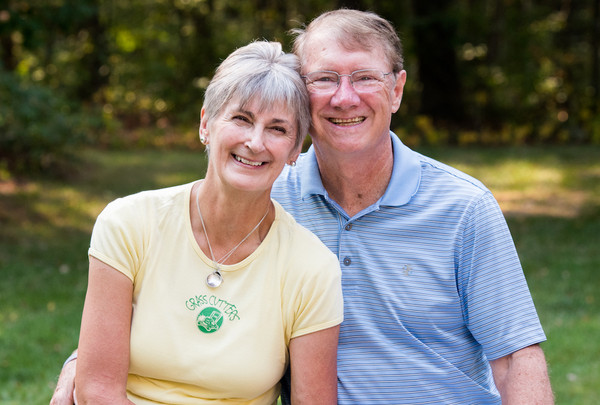 Cheryl, pancreatic cancer survivor, with her husband, Arnie.
BEN VALENTINO
"There, they barely knew my name.
Here, they treat me like a VIP."
When Ben was diagnosed with multiple myeloma, a cancer of the blood, he initially went out of state for treatment. "But it was a long drive, and I always had to wait. So I was thrilled when New England Cancer Specialists opened their office in Kennebunk. They always make me feel important."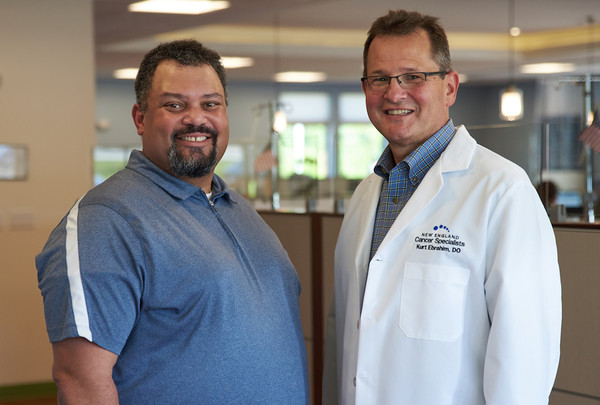 Dr. Kurt Ebrahim (right) leads the team at NECS that manages Ben's myeloma.
TRACY THIBODEAU
"I wondered, who's going to be there for my daughter? Until I came to New England Cancer Specialists. Now I have hope!"

"I came to New England Cancer Specialists for a second opinion, on the advice of a friend, and today I'm glad I did.
"I'd had a routine mammogram, and got a call afterwards, which is also routine for me because of my issue density. But this was different: they did a biopsy and found I had breast cancer...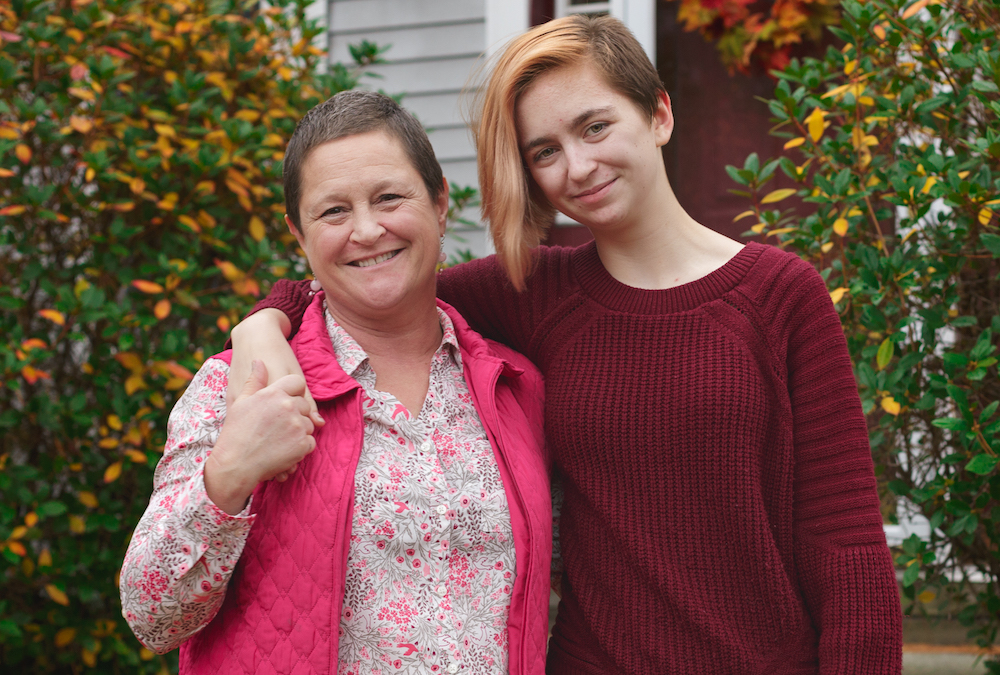 Tracy, breast cancer patient, with her daughter, Parker.