The Jackson Laboratory, NECS, and the Maine Cancer Genomics Initiative
July 13, 2017 · Expanding Genomic Knowledge in Cancer Treatment
Truly personalized cancer treatment requires a comprehensive understanding of a specific tumor's "molecular fingerprint." Treatments designed specifically for each patient's tumor are often called "precision medicine," and have been found to be more effective with fewer side effects. Up until recently, the technology to analyze a patient's tumor on a molecular level was not available outside of a research study.
The Maine Cancer Genomics Initiative (MCGI) is a statewide initiative in Maine supported by a generous grant from the Harold Alfond Foundation. In collaboration with The Jackson Laboratory of Bar Harbor, Maine, a leading molecular diagnostics company and research institute designated by the National Cancer institute, Jackson Labs will perform 1,800 molecular tumor tests at no cost to patients in Maine. In addition, the MCGI will work with clinicians from every cancer care center in Maine to help patients and clinicians understand how knowledge of this new technology can help provide better care for patients.
New England Cancer Specialists is a leading provider of cancer care serving communities in Southern for the past 50 years. The physicians at NECS are excited to bring this new technology to our patients. NECS clinicians - including our Medical Director of Clinical Research, Dr. Christian Thomas - will receive additional specialized education serve on MCGI's clinical steering committee and, in collaboration with Spectrum Medical Group support the project through a special genomic tumor board, a multidisciplinary advisory group that meets regularly to discusses difficult cancer cases.
"NECS is strongly supporting the MCGI to bring free molecular tumor profiling and precision medicine to cancer patients in Maine," Dr. Thomas said.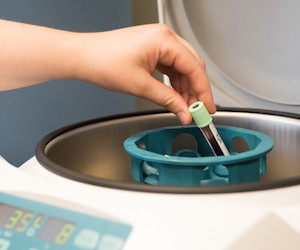 So, how will the study work, and who will be studied?
The MCGI study will have two study subjects: oncologists, and patients. Oncologists will participate in a survey to share their knowledge when they enroll in the initiative, and then take questionnaires to gauge how much they learn through participating.
As doctors offer genomic testing to patients who need it, one of the test options will be to participate in the MCGI study. The genomic test is not right for everyone, and patients must consent to be tested, and consent to be part of the MCGI study if they so choose.
After the test, the clinician reviews the results and may consult with Jackson Labs through a genomic tumor board. The clinician then meets with the study patient to discuss the results of the testing and collaborates to determine the patient's best course of treatment.
Patients who choose to participate will be followed for one year by the scientists of Jackson Labs, studying how knowing the genomic profile of the tumor can inform treatment. All study data will go back to Jackson Labs, which is a non-profit research institute.
Through the study, Jackson Labs is hoping to assess the providers' knowledge, awareness, and experiences regarding the use of genomic testing. They also hope to better understand patients' attitudes and beliefs toward this testing. In the process, the MCGI team also hope to help to educate the community on how to use this novel concept by providing free education and access to genomic tumor boards. NECS is part of a network of study sites across the state who will work together and share knowledge, hopefully creating opportunities for providers and patients in Maine that did not exist before.
To learn more about the MCGI, click here